History
Chetana National Institute of Vocology was inaugurated by Padmabhushan Dr. K.J Yesudas, legendry musician, on 1st April 2005. This is an institution under the umbrella of Chetana Group of Institutions managed by CMI fathers of Devamatha Province, Thrissur. This pioneer institution in the field of Vocology in India was founded by Fr. Dr. Paul Poovathingal CMI, the first Vocologist in India trained by Dr.Prof. Ingo Titze, Father of Vocology at National centre for voice and speech, Salt Lake City, Utah, USA and Dr. Prof. Jeanie Goffi, Columbia university New York.

CNIV (Chetana National Institue of Vocology) has been conducting workshops for professional voice users( singers, actors, teachers, preachers, speakers, anchors, lawyers) for the past many years. It has been conducting certificate course in Vocology regularly for the first time in India.
Members
Advisory Board Members


Fr.Dr. Paul Achandy CMI, Provincial, Devamtha Province, Thrissur
Dr.Prof. Ingo Titze, Director, National Centre for voice speech, USA
Dr.Prof.David Claman, Lehman College, New York, USA
Dr.R.Jayakumar, Laryngologist. Kerala Institute of Medical Sciences TVM
Sri.V.A.George, Chennai
Sri.V.A.Joseph, CEO & MD, South Indian Bank
Prof. Geroge S.Paul

Director


Dr. Fr. Paul Poovathingal CMI
Faculty Members
1. Fr.Dr.Paul Poovathingal CMI ( Vocologist and classical vocalist)
2. Dr. R.Jayakumar(Laryngologist, KIMS, TVM- Visiting)
3. Dr. Santhosh Kumar(Laryngologist - Visiting)
4. Prof. George S. Paul( Physicist)
5. Mr. Binu John Mathews( Voice Trainer)
6. Mr. Gopinath Edakkunni( Yoga trainer)
7. Mr. Ashok K.G.(Yoga trainer)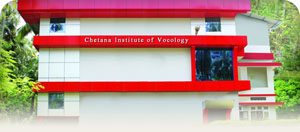 Our Vision

Our Vision is to develop 'best voice' for India. We aim at creating vocal health awareness among voice professionals and other voice users in the country. We dream to help the citizens to protect their voice in good condition.
What is Vocology?

Vocology is the science and practice of voice habilitation and rehabilitation. Habilitation is the process of building and strengthening the individual's voice to meet a specific need. Its primary objective is to find the ideal voice for an individual on the basis of his or her given anatomy. A clear understanding of the functional behavior or vocal folds and breathing mechanism will give the voice user a clear picture of muscle movement during voice production. This will help all voice users to avoid voice problems and maintain good and healthy voice.